Following the fan theme that we have at the moment, in this article, we will talk about desk fans, and what you should look for before buying one. 
A lot of people, when they think about desk fans, only imagine one type; a standard, white fan with three or four speeds. However, as time has moved on, so has the technology that manufacturers use to create them. Therefore, there is a much larger variety of desk fan that you would first think. 
One thing that you need to know is that we have another article about USB fans, here. However, we will still look into some of them here. As another side note, if you are looking for a portable air cooler, we have various articles, I will link them below: 
What To Look For In A Desk Fan
As we have said, there are a lot of styles of desk fans that you can choose from. However, there are also a few other things that you need to look for and decide about before parting with your hard-earned cash. 
Desk Fan Sizes
The first thing that you need to work out is the amount of spare space that you have for a desk fan. If you are like me, then you probably have a very small area that you could spare for anything. However, having a fan in the heat is a necessity. You really only have two options in sizes that are going to fit on your desk, small and large. While we say large, that is only relative to the size of a desk, so none of these fans are going to be huge. 
Clip Fans
If you have no space at all to have a fan, then you may want to consider a clip fan. They are extremely versatile, as you can clip them to the edge of a desk or shelf, and they take up minimal space. Some clip fans are as small as six inches tall, so you should have space for at least that. The majority of them will also have rotating heads for directing air, along with tilting pivot heads so you can clip it above or below you.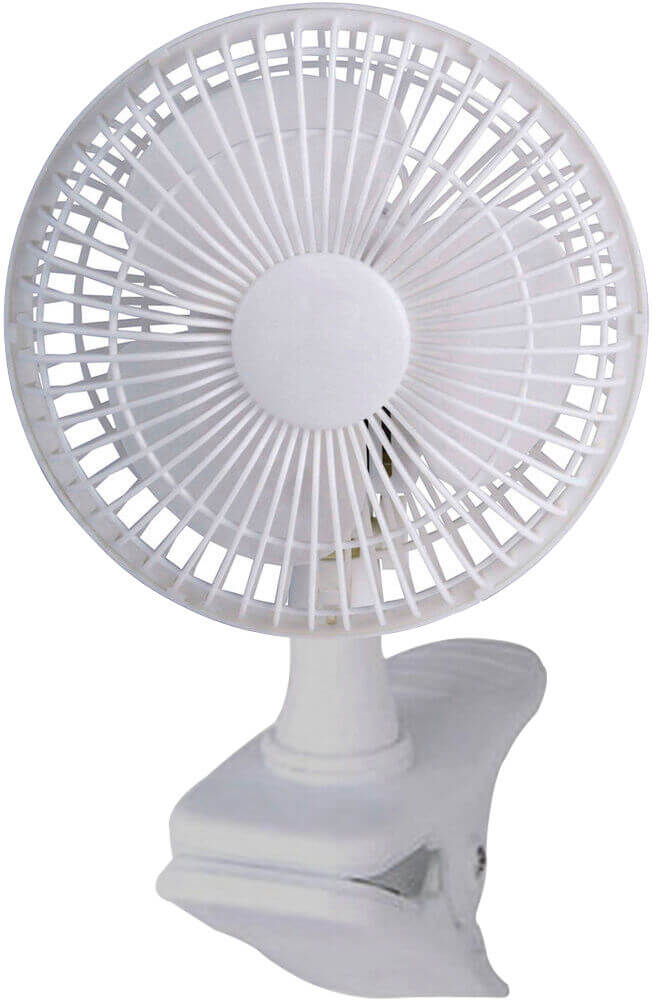 Pros:
Minimal desk space required
Very maneuverable
Low cost
Quiet
Cons:
Not the highest air output
While you may think that these are pointless, they are not. If you have huge constraints on space, but you are too hot, then these could save you from being overheated. Make sure that you look for one that has multiple fan speeds, too, so that you have a little more control. Of course, the higher the wattage the higher the power, too. However, you are unlikely to find one much more than 15W, but ensure that you buy one that is mains powered so that you don't overload your PC USB ports. 
Small Desk Fans
Small desk fans are great if you are in a smaller area, or if you do not have a huge amount of space for a large fan. By small, we mean fans that are around the 12-inch mark in height. When you are looking at these fans, there are a lot more options that you have to choose from. For example, you are now getting the option for automatic oscillation, and in some cases, misting. Furthermore, depending on the manufacturer, you may even be looking at fans that are 40W+ and even wall mountable.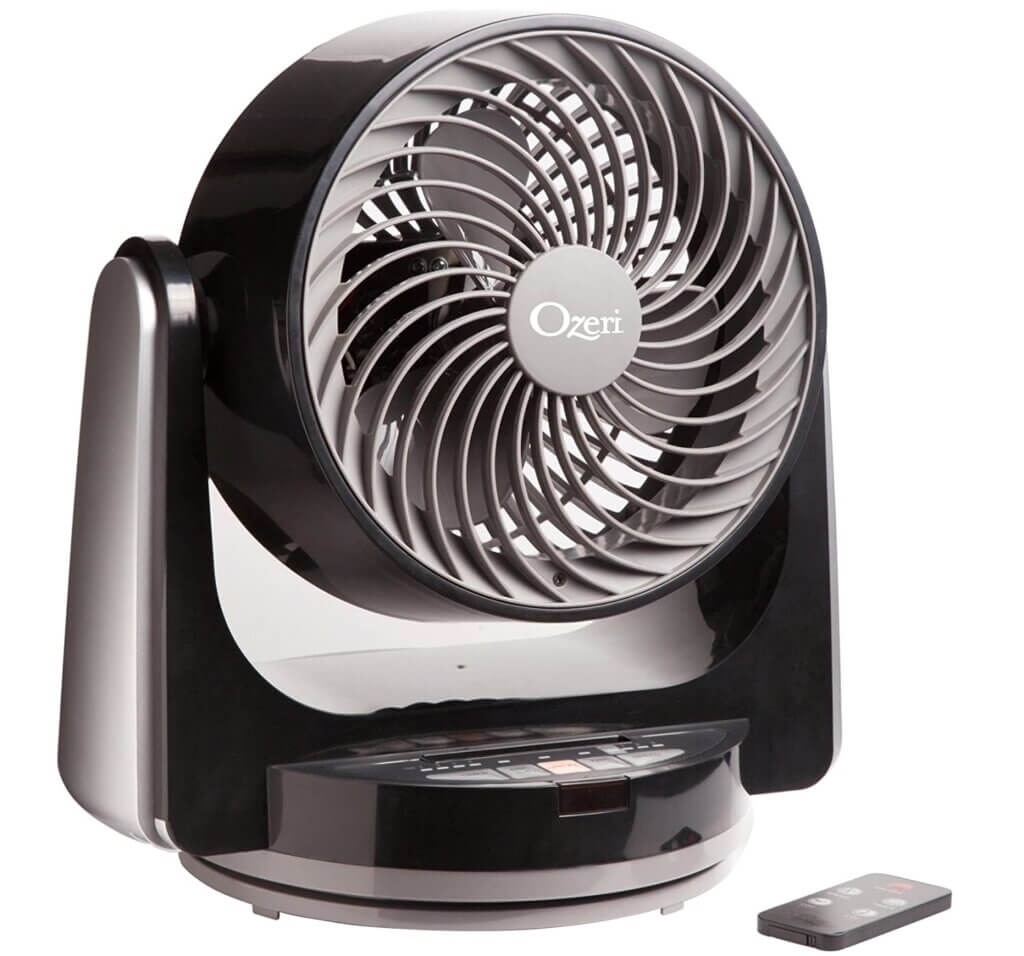 Pros:
Still small enough to move and keep desk space.
Many more options such as self-oscillating and misting 
Some are wall mountable
Higher airflow
Remote control in some cases
Cons:
A little louder (up to 50dB)
More expensive
Out of the two options so far, I would much prefer a small desk fan over one with a clip if only for the optional extras that are available. However, with the increased air-flow, you are likely to feel the same if you have them sat side by side. 
Large Desk Fans
If you have ample room on your desk, then, first of all, lucky you! However, you are now in the territory of some of the most powerful options you have. If you have long hair, be warned! While this is the size of the more "standard" desk fan, that doesn't mean you have to buy a $20 ugly piece of kit just to keep you cool. There are a lot of options within the large fan variety. Although, strangely, there are more in the small sizes.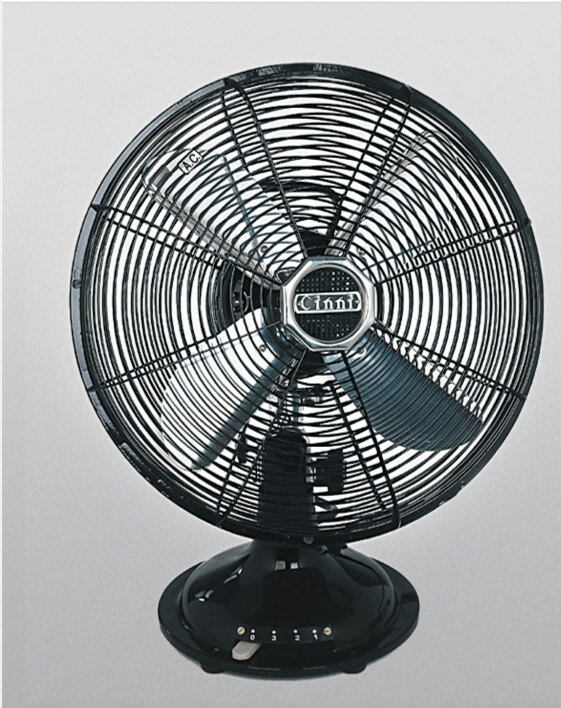 There are still a lot of color and style options that you have available to you now, including retro styles, chrome-plated, etc. However, they are much bigger than their small counterparts. 
Pros:
Much higher airflow
Self-oscillating and misting
Wall mountable
Remote control available
Cons:
Much larger
Noisier
More expensive if you opt for anything other than the standard
Size Conclusion
In my opinion, unless you want something that is going to cool more than one person, I would prefer to go for the smaller desk fans. The reason for that is there is often plenty of airflow with them, and they are smaller. Not to mention the fact that you actually have more options for added extras with the small versions than you do with the larger ones. 
Blades or Bladeless?
The only other thing that you need to think about when you are looking for a desk fan, is if you want one with or without blades. However, of course, even in the Dyson "bladeless fans", there are still blades of a fashion, they are just more like a jet engine cone, as opposed to four or five visible fan blades. They just use them in the body with baffles to remove turbulence.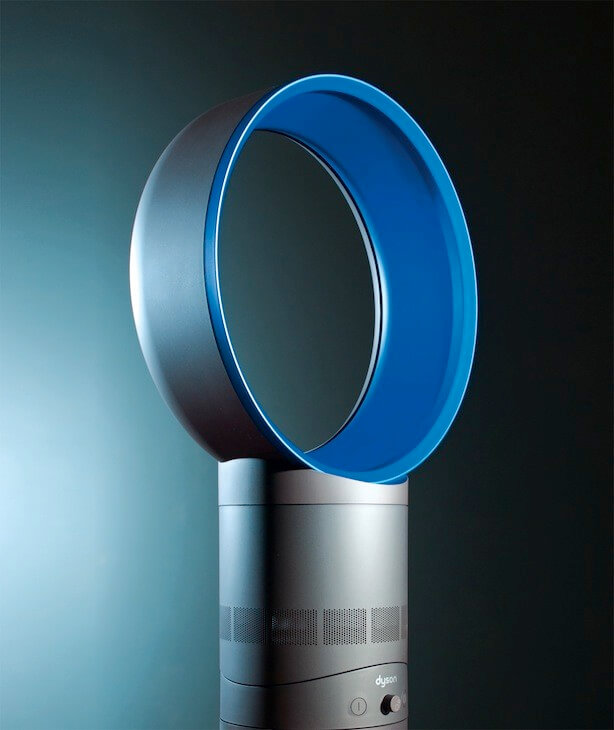 Nevertheless, having a fan without visible blades do have some advantages. 
Pros to a bladeless fan:
Smooth airflow, not choppy like bladed fans
Not as dangerous
Misting
Self-oscillating
Quieter
Cons:
Blade or Bladeless Conclusion
In my opinion, with the number of options that you have on either of them, it all depends on where you are using it. If you are likely to use the fan around pets and children, then you are better with a bladeless fan. However, if you are only ever using it for yourself, then you can probably save a lot of money with a regular, bladed fan.
Conclusion
While there are options to choose from when you are looking for a desk fan, the first thing that you need to think about is how much space you have to put it. the next thing that you want to consider is the optional extras that you have available. As a conclusion, we will run over the options again:
Clip fans
Small fans
Wall mountable
Misting
Remote controlled
Large desk fans
Bladed
Bladeless
Of course, there are still other air coolers that you could look at, like the ones that I linked to at the top of the article. I hope this has helped you find what sort of fan fits your requirements.