If you are looking for a USB fan, then you may want to look through our other article about personal fans, here. It opens in a new tab so that you can click it now, then continue reading. However, some of those are not USB fans, so in this article, that is what we are going to look at; all of the aspects of USB only fans.
USB fans are more popular now than ever before, and it is easy to see why. Everyone with a chargeable device of any sort has a USB plug for the mains. Not to mention, there are PCs, laptops, portable battery packs, TV USB ports, in-car adapters, etc. and they are all over the place, meaning that you can use a USB fan almost anywhere you go. 
 So, now we know that a fan that uses USB power to run it is going to be very beneficial; you still need to know various things before you buy one.
What To Look For In A USB Fan
If you have ever looked into USB fans, you will know that there are a plethora of options, and it is certainly not a "one size fits all" kind of scenario. The reason for that is simple. As I have explained above, there are a lot of places that use USB ports. And no, I don't just mean the USB-A port that you find on the outlets of chargers and the like. You have USB-C, like on Samsungs newer models, Micro-B as many older Androids, and the infamous Apple proprietary USB. 
Before you wonder why I am talking about device USB ports, yes, you can buy USB fans that are powered by your phone: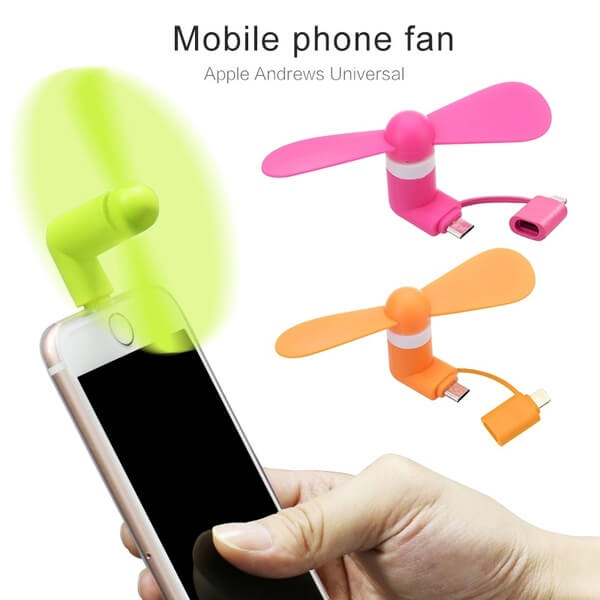 So, what sort of things should you look for before buying a USB fan? Well, we will tell you:
USB Fan Connection
The first thing that you want to look for is how you connect the fan to a USB port. As you can see above, there are many ways in which that can be completed. However, to understand which type of connection you want, you first need to know where you are going to use it. As I also explained earlier, the most common port you will find is the USB-A port, and they are everywhere. As far as we are aware, there are only two types of mains plug on the market at the moment:
That means, for versatility, one of those two options is your best bet, as you can use them in more places.
However, again, as you have seen above, you can also buy USB fans that get their power directly from your device. Although the idea may seem like a great one, there are some thoughts that run through my mind when I look at them:
It will drain your battery – even if it only slowly.
It may ruin your device, as there is no way to tell how much current is drawn.
There is only one place that you can use it – on your phone.
While USB-C may take over the world of USB, I still think that a USB-A powered device will be the better option. That is because, if you still have the fan in however many years, you can always buy an adapter like this:
Having said that, though, it is pretty likely that you will find that USB fans will evolve in that time too, so this article may look a little different by the time that USB-C takes over entirely. 
Where Will You Use The USB Fan?
This question is one of the most important that you have to answer. That is because, if you want something portable enough to use while you are out and about, you will need to consider something like the phone powered one above. However, if you think that you are only ever going to use it while you are at work, perhaps because you already have a personal fan, then you will want something a little larger. 
One thing that you have to know, though, is that you can still move any fan that is powered by USB pretty quickly. That is because, with a 5V motor, you are not going to have a huge fan that is difficult to move. Even the largest, stand-alone fans, are only going to be around 5 inches tall, but they look a lot better sat on a desk than they would do in your hand walking the streets. So, if you want one that you can carry with you, then you probably want to look back at the personal fan links that I have added to this article. 
Desk Space
If you are working at a desk, then desk space is often as much of a commodity as computer disk space, and you want to preserve as much of it as you can. Well, luckily for you, you have the option for a flexible stem USB fan. That means, that if you have a monitor with a USB port or a laptop, then you can plug one of these in with ease, and direct it to you with no reduction in desk space. 
One thing that you have to look out for with these, though, is that you buy one with a high-quality stem. The last thing you want is to have to keep adjusting it because it can't hold up the weight of the fan while it is running. However, if you have more space than you know what to do with, lucky you! But that does mean that you can buy something a little more significant and more substantial in airflow. 
Novelty
There is not a huge amount to say about USB fans. However, if you are looking for something that will keep you fresh while looking cool, then you can opt for something with a novelty factor. Some of them may even come in handy. For example, some fans have LED strips in them that will give you information such as the time and temperature while they are operating. However, if you want something a little more personal, you can get similar items that you program to show specific messages.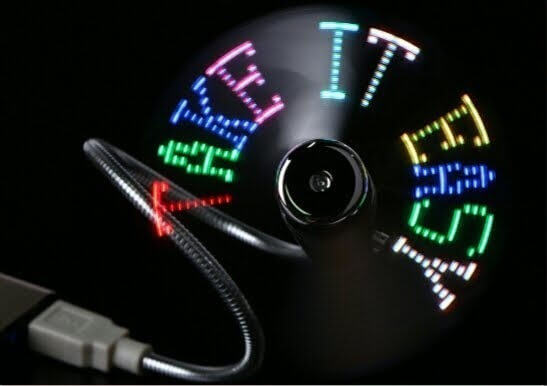 Conclusion
As we have said, there is not a massive amount of options when it comes to USB fans. However, the options that you do have are excellent. Here is a quick rundown of the items that I have spoken about:
Mobile phone powered USB fan
Desktop USB fans
Flexible stem fans
Novelty USB fans
The decision between them comes down to where and when you want to use them, and the space that you have to do so. Therefore, you need to ensure that you work that out before you buy any of them. However, most of them are cheap enough to be able to buy more than one without breaking the bank.