Protein Bars are a fantastic way to get the essential micronutrients which you need to support the different structures of your body. However, you can source protein from a variety of meals and foods like fish, meat, eggs, and nuts. But some people rely on protein supplements to get the daily dose of protein. Individual bars are just one option that comes with different lifestyles and dietary benefits.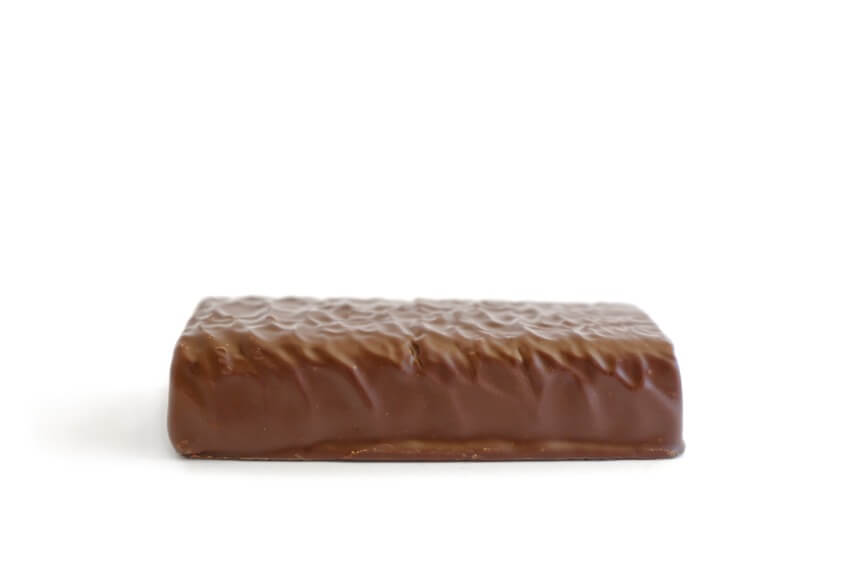 Protein bars available today are almost like candy bars in masquerade. However, they often have all the healthy ingredients that your body needs to build lean muscles and lose weight. The bonus is that they taste good. Protein bars are the ideal snacks for gym-goers and fitness fanatics. However, they can be sly body destroyers that sabotage all your efforts and hard work, depending upon how you use them, and which you choose. Some of the protein bars are just like candy bars wrapped up to look healthy, but they have more sugar and empty calories than protein. On the other hand, others come with many approved macro profiles made out of clean and healthy ingredients. If you are planning to use protein bars as a post-workout snack, small meals, snacking, ensure that it has a sufficient amount of protein.
In this guide, we will run through all of the things that you need to look for in a protein bar.
What to Look For in Protein Bars
Of course, just like everything you eat in the fitness world, you need to know what you are consuming. I have often heard, you can never out-train inadequate nutrition, and that is a fact.  
Taste & Texture. – The very first thing that you have to look for is the taste and texture of the protein bars. These bars are loaded with proteins and other healthy substances, but you will never prefer eating it regularly if it tastes horrible. So, you must buy one or two as a test to check its texture and flavor from different manufacturers.
Amount of Protein and Quality. – The second important thing to consider is the amount of protein and quality of the bars. You need to know how much protein your body will get from the bars. There are different types available now, including vegan protein bars, high fat, and more. You need to choose which you will need according to your body's protein needs. You need to ensure that the bar is supplying the desired amount of protein to your body, and they are all from quality protein sources.
Fiber and Nutrient Levels. – Another important thing you need to look for is the other nutrient content of the bar, and ensure to look for the total quantity of fiber. If you use the bar as a meal replacement, ensure to choose the one that has a higher amount of fiber and a right combination of nutrients to give your body the daily dose of nutrients when replacing meals with Protein Bars.
Sugar, Fat, and Calories. – It is also imperative to look at the overall sugar, calorie, and fat content in the protein bar. These contents would be higher in protein bars than that of a meal replacement, but it is always best if they are not very high. You may look for low sugar and low saturated fat bars that supply between 200 and 300 calories per serving. This type of bar is always a good option and won't damage your diet too much when added to your regime correctly.
Different Types of Bars
Nutrition Protein Bars. – Whether your body needs nutrition or energy, the nutritional protein bars are the best as it offers benefits of both the worlds. It gives your body with required nourishments and makes you physically active and full of energy. They are high in protein, minerals, vitamins, and fibers. Therefore, they offer the users all of the nutrition of a meal that their body demands.
Gluten-Free Protein Bars. – It is quite challenging to find protein-filled, nutrient-dense foods, and it even becomes difficult when it comes to finding gluten-free protein bars. But there are some brands that design great-tasting and flavorsome protein bars that are gluten-free. So, people with gluten intolerance, celiac disease, or gluten aversion can find these gluten-free Protein Bars safe and healthy to eat.
Low Carbohydrate Protein Bars. – There are Low Carbohydrate Protein Bars, which are ideal for people who are into a weight loss regime and want to develop lean muscle mass. It is also best for people who want to cut down carbohydrate intake for the sake of losing some healthy weight. It helps you to stay satisfied and fuller all day long by maintaining the blood sugar levels.
Vegan Protein Bars. – Vegetables are one of the best sources of high-quality protein, and using natural plants produces vegan protein bars. They give your body with daily nutrients along with protein without having to rely on a meat-rich diet. Vegan bars are also rich in nutrients and fiber, and hence it is the ideal choice for all vegetarians who need healthy protein without animal meals.
High and Low Protein Bars. – There are both high and low Protein Bars available, and depending upon your needs, you need to make the selection. The high protein bars are best for those who are using it as a meal replacement or want to build a masculine physique in the least amount of time possible. However, low protein bars are for those who want to lose weight and maintain a healthy and lean muscle mass with fewer calories.
Benefits of Protein Bars
Of course, as with everything, there are benefits to using them. However, there are also downfalls, too. There are very few downfalls to added supplements like these, but there are still some. For example, fresh food will always provide a better quality of nutrients than bars. But sometimes, the benefits outweigh the restrictions by quite a lot. In this section, we will talk about what those benefits are.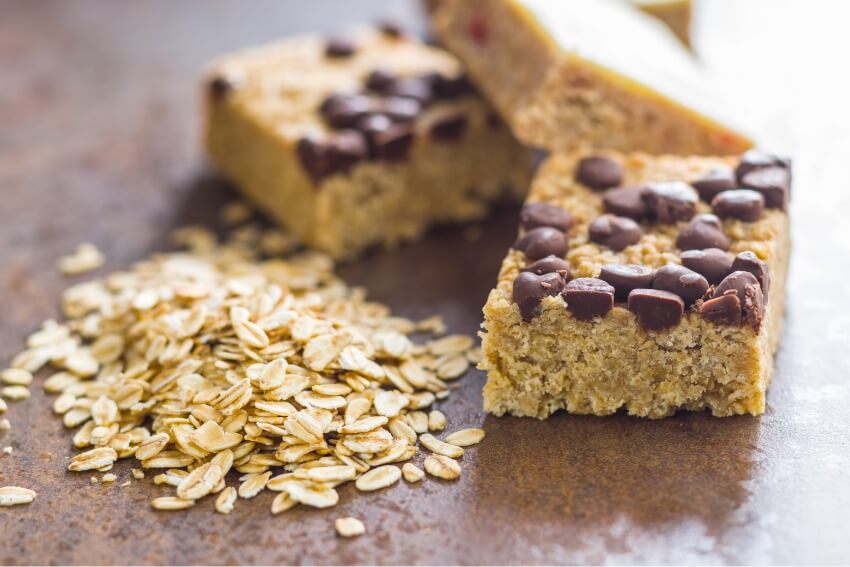 Small Ways to Get Daily Recommended Nutrients. – According to researches, the majority of people are not getting the required amount of protein from their meals. Busy working professionals have less time for preparing their meals, snacks, and shakes. For such people, these small packets of protein are the best choice to get the daily recommended nutrients and protein without having to rely on their regular meals. They are compact and take less space in your bag or purse. Furthermore, there is no need for refrigeration. The high protein bars are the quick, easy solution for weight watchers, bodybuilders, athletes, and for those who want to achieve their macro goals.
Nourishments – Pre and Post Workout. – Protein and added carbohydrates available in some of the protein bars can offer your body with the required energy to get through your workouts and extensive training. The nutrition bars are designed to provide you with post-workout nutrition that your body needs to build new tissues and help the muscles recover as quickly as possible. While some people use shakes, they are not for everyone. 
Reduces Unnecessary Appetite. – Whether it is low or high protein bars, vegan, or otherwise, all of them will help to make you feel fuller and satisfied. As a result, it reduces unwanted hunger pangs and appetite levels throughout the day.
Effective as Meal Replacement. – If you are focused on minimizing calories and controlling your proteins, the high protein bars can help you balance regular servings and keep away the sugar spike that occurs with unhealthy eating habits. You can use protein bars entirely as meal replacements, but only as part of a well-rounded diet. It must not be the only source of your daily nutrition, as you need to supply your body with antioxidants and other nutrients along with Protein Bars.
Ingredients of Protein Bars
High-Quality Protein Sources. – The best protein bars use proteins from high-quality isolates, concentrates, and whole-food ingredients like grass-fed whey protein, nuts, and antibiotic-free meat. Seeds, egg whites, grass-fed meat, and seeds are some of the accessible whole food protein sources used for designing Protein Bars.
Natural Sweeteners. – The Best Protein Bars are made with natural sugars and free from added artificial sweetener content. It has sugars that are sourced naturally from cane and fruit. But the fruit is not considered as added sugar, only concentrated fruits are used for adding sweetness to the protein bars.
Whole Food Ingredients. – Whether it is to add sweetness or flavor, the best protein bars use only whole food, natural ingredients, and no artificial substances.
Healthy Fats. – Fats are necessary for your body's daily nutrition, and it helps in absorbing essential nutrients from your meals and keeps you satisfied for longer hours. So, most manufacturers use healthy fats in many protein bars, and they are from seeds and nuts instead of vegetable oils and meat.
No Sugar Alcohols. – Some of the Protein Bars also comprise of sugar alcohols as they are low in calories and can sweeten the bars naturally. But dieticians usually suggest not consuming it in excessive quantity. So, you need to keep check of this when choosing protein bars for your daily snacking or meal replacements.
When to Use Protein Bars
Protein Bars are the easiest way to get the needed protein when you are on the go. However, there are specific timings for using these products that are better than other times. So, let us tell you when it is best to use them. 
Not Getting Enough Protein. – Depending upon the intensity level of workouts, you need to ensure that your body is supplemented with sufficient protein to fuel the muscles and promote healthy growth. So, you need to consume 1.5 to 2.5 grams of protein per KG for bodyweight after your workouts. Using a specific bar will help tremendously. 
For Breakfast. – Busy working professionals hardly have time for preparing their early morning breakfast. So, if you are also running out of time and can't make a healthy breakfast, then taking a protein bar is always the best alternative for you. You need to combine it with something quite substantial like fruit, yogurt, or something else. However, for the days you don't get to eat eggs, this is the ideal alternative.
Pre and Post Workout. – If you are a bodybuilder, you know you need to get at least 20 grams of protein pre and post-workout sessions. So, with the pocket-friendly protein bars, you can get the required amount of protein before and after a workout. It will help the muscles to recover quickly and promote lean muscle growth without side effects.
On the Go. – Protein Bars are considered to be the best meal choice for people on the go, providing that you have a good kind. If you are running out of time, driving for long hours, or just not able to get any other food, then a protein bar would be the healthy and best-snacking choice for you. They certainly help you to feel fuller without any craving attacks in between meals.
Natural Protein Bars
Protein Bars can be healthy and nutritious for you if you know what to look for on its label. Thanks to the new generation of plant-based natural protein bars, which you can eat anytime and anywhere, it is becoming easier to find these products with natural ingredients like nut butter, seeds, fruit, and different vegan-friendly powders and herbs. These Natural Protein Bars are easy to digest and best for your overall health and body, while keeping you in shape by promoting healthy weight loss.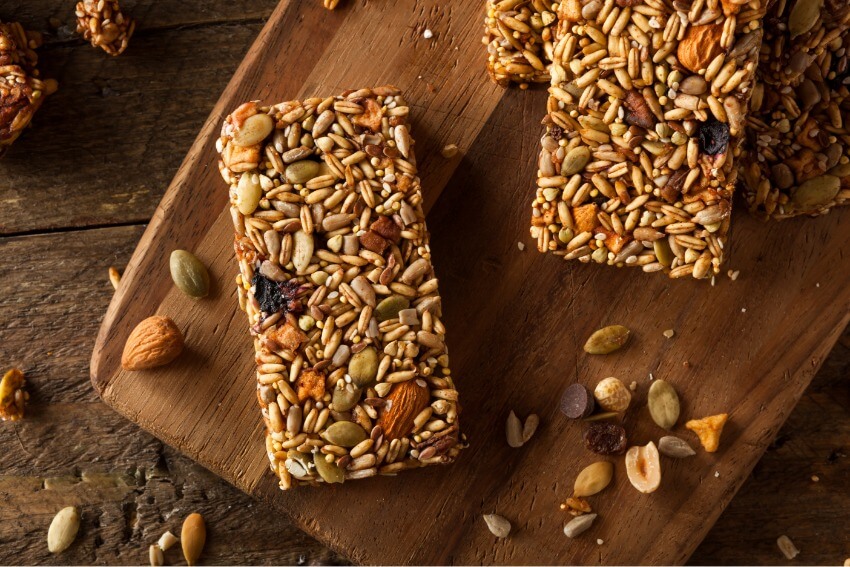 The natural ingredients that are in the bars are the healthiest snacking option that you are likely to find. Also, you can use them as a meal replacement, because they are loaded with superfoods and other natural ingredients. Most of the quality natural bars include fresh, dried fruits, grains, and seeds like oats, flax, sunflower, chia, and Quinoa. Grains are rich in useful, fiber-based carbohydrates, and the unrefined grains are an excellent source of protein. The base of all-natural bars is the sticky dried fruits, which are the perfect source of minerals and natural sugars. Dry fruits like apples, berries, dates, figs, raisins, and bananas are the primary ingredients of natural protein bars.
To bind all these natural elements and ingredients, manufacturers often use natural binders like maple syrup, dates, fig paste, and honey. All these natural bars are free from artificial fiber and isolate binders. They also use healthy fats, which are crucial for maintaining a healthy level of blood sugars, like sunflower, coconut, hemp, and Avocado oil. Some of the natural bars even comprise of Omega 3 and Omega 6 fatty acids that are good for your blood system and offer energy, while transporting vitamins that are soluble in fats across the body. So, the natural protein bars are healthy and the best all round. One thing that you will have to take into account, however, is that you are likely to get a lower amount of protein in one of these than another type that uses whey. 
Conclusion
Protein Bars are one of the most efficient ways to supplement your body with daily requirements of nutrients along with healthy proteins that your body lacks if you can't get them from your daily meals. From weight watchers to bodybuilders and even the people who need healthy meal replacement can make use of them on the go.
The majority of protein bars are available as a candy style bar that is easy to carry, and you can keep them with you so that you can consume it whenever needed. There are different brands that manufacturer protein bars, and you will find many variations of them, such as vegan-friendly, low and high protein, gluten-free, nutritional, sports, and the list goes on. You should choose which is the best for you based on your body's requirements and the level of protein you need.